Technical data
EC.input
- Easy Connection Input
EC.input: article no. ECI 1001
Patent no: "Norge 333062"
"US Patent 9,216,500"
International trademark registration number:
IR 1 136 459-EcInput
USA-Reg.No. 4,340,600
Norway-Reg.No 262693
GMDN code: 58795
GMDN term: Urinary catheter / drainage bag connection facilitator
Medical disposable equipment for coupling of drainage bag and catheter or external catheter
Quick procedure: time spent 15 - 20 seconds
Ensures correct riktig installation of coupling nozzle
Fewer leaks and less discomfort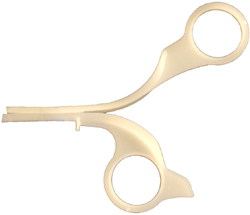 Area of application
Uncoupling/coupling of drainage bag and catheter for urine retention patients
Coupling of drainage bag and external catheter for incontinence patients
Suited for nipples with diameter between 6-12 mm
Characteristics
Extends the part of the catheter/external catheter where the tube nipple is to be inserted.
The smooth surface eases the insertion of the nozzle connecting the catheter/external catheter to the drainage bag.
Correct installation is ensured by a collar adjusted to the nipple's expected insertion depth.
NB! When used with catheter the EC.input should not be pressed as far as when used with external catheter (cf. Instructions).
Involve fewer leaks.
Simplifies uncoupling of drainage bag from catheter by installation of the device before the nipple is released.
Other details
Material/contents: Polyetylen (PEHD)
Weight: 3,8 gram
Dimensions: 9 mm diameter, overlap length 30 mm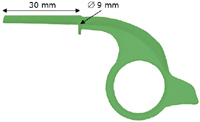 Order information
Orders may be placed at post@ecinput.no
Article no: ECI 1001
Produktbeskrivelse: Disposable equipment for coupling of catheter and external catheter
Units
Box: 30 pcs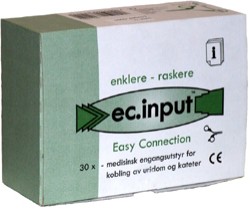 Carton: 300 pcs (10 boxes of 30 pcs)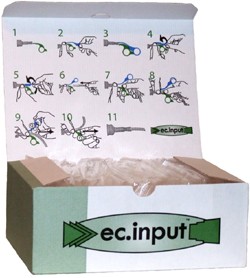 Pallet: 12 000 pcs (40 cartons of 300 pcs)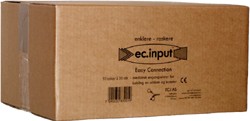 Package specifications
Bar code no 709003083(xxxx)
Units
width
depth
height
weight
box
101 2
mm/inch
195/7.7
145/5.7
77/3.0
166g/0.37lb
carton
201 9
mm/inch
396/15.6
296/11.7
200/7.9
1990g/4.4lb
pallet
301 6
mm/inch
1200/47.2
800/31.5
1000/39.4
79.6kg/175.5lb